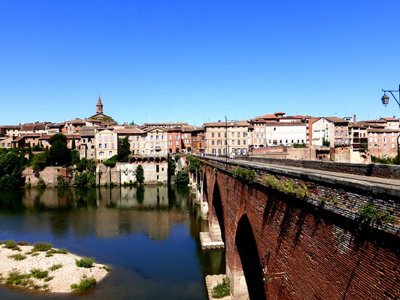 The Episcopal City of Albi
About forty minutes from Lavaur stands the magnificent city of Albi. It is difficult to sum up in a few words the beauty of its old quarters, its cobbled streets, its charming and authentic facades, the atmosphere that emanates from the market stalls, and of course the magnificence of the great monuments, classified as UNESCO World Heritage.
Start your visit with the unmissable Sainte-Cécile cathedral, the largest brick cathedral in the world, which resembles a fortified castle. Continue your excursion with the former palace of the bishops, the Berbie palace and its gardens, which remains an exceptional edifice. End your visit with the collegiate church, a religious building with cloister and garden that are very pleasant to visit. At the end of your visit leave via the old bridge of Albi, a bridge of medieval origin still in use today.